Đề kiểm tra học kì II lớp 9 môn tiếng Anh – Đề 2
ĐỀ KIỂM TRA MÔN TIẾNG ANH, HỌC KỲ II, LỚP 9
Đề số 2 ( Thời gian làm bài: 45 phút)
A. MA TRẬN (BẢNG 2 CHIỀU)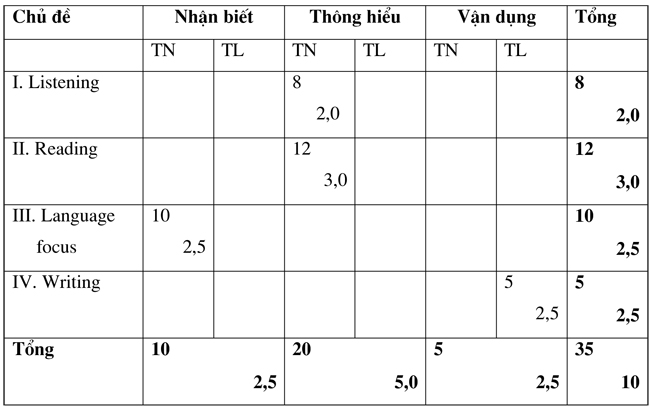 B. NỘI DUNG ĐỀ
I. LISTENING
Listen and decide whether the following statements are True (T) or False (F). (2.0 pts)
1. Christmas Day is one of the biggest holidays.
2. Children open the presents that were in their stockings on Christmas evening.
3. All families go to church on Christmas morning.
4. The traditional Christmas dinner consists of roast turkey with potatoes and other vegetables.
5. Christmas pudding is served after the roast turkey.
6. After the dinner people usually pull crackers.
1. The crackers are small rolls of paper that have gifts, jokes, and party hats inside.
8. People drink a small quantity of beer, wine and spirits.
II. READING
Read the passage and fill in each blank with a suitable word from the box (3.0 pts)
today, because, environment, important, hunting, holds, around, more, fewer, resources, which, surrounded
A forest is a special place. In the forest, (1) _______ by tall trees, you are cut off from the world (2) ______ you, and filled with the sights and sounds of nature. Many fairy tales and legends are set in forests, (3) _________ have been thought to hold magic and mystery. (4) _________ we know that these are only stories, but the forest is still a place that (5) _________ many of the world's most valuable (6) __________. Forest has always been (7) _______ to people. In the past, many people got food by (8) _________ forest animals and gathering wild plants. With the advance of civilization, (9) _________ people now live in forests, but forests are (10) _______valuable than ever. Forests have an important economic value (11) _______ they provide us with resource such as timber. Forests are vital to the (12) _______ because they clean the air we breathe. Forests are also treasured for their beauty.
III. LANGUAGE FOCUS
Circle the correct answer A, B, C or D to complete each of the following sentences. (2.5 pts)
1. The children felt _________ when their mother was coming back home.
A. excitement B. excitedly C. excited D. exciting
2. ________ he worked hard, he couldn't pass the exam.
A. So B. Because of C. Even though D. Therefore
3. He laughed _________when he was watching "Tom and Jerry" on TV.
A. happy B. happily C. happiness D. unhappy
Xem thêm nhiều bài hơn tại : Đề Thi